The 28-Day Wellness Warrior Challenge
Who Is It For?
The Motivation Seeker: Maybe you've hit a plateau in your fitness journey and need a boost of motivation.
The Goal Setter: If you have specific wellness goals in mind but need structure and accountability, this challenge is for you.
Why Join?
Comprehensive Wellness: We offer a holistic approach to health and fitness, including training program, a personalised nutrition plan, and weekly accountability check-ins via our app.
Time Efficiency: In just 28 days, you'll see remarkable progress in your fitness journey, thanks to structured, efficient workouts.
Accountability: Stay on track with our app's tracking features, and our supportive community. You're not alone in your wellness journey.
Results: Whether it's weight loss, strength gain, or increased energy, you'll see real results in just one month.
Take The Quiz
The 6-Week Find Your Flow Program
Who Is It For?
The Commitment Seeker: You're dedicated to your wellness journey and ready to take your results to the next level.
The Seeker of Routine: Those who thrive with structured, consistent guidance and accountability will benefit most.
Why Join?
Mind-Body Integration: Our Find Your Flow program emphasises the harmony of physical fitness and mental clarity. It includes training program, a personalised nutrition plan, and weekly accountability check-ins via our app.
Personalised Coaching: Benefit from two coaching calls (at weeks 3 and 6) to address your unique challenges and goals.
Lifestyle Transformation: Six weeks gives you the time to adapt to new, healthier habits, setting the stage for long-term well-being.
Take The Quiz
The 12-Week Total Transformation Program
Who Is It For?
The Long-Term Wellness Advocate: For those committed to making lasting lifestyle changes, our 12-Week program provides the foundation.
The Seeker of Holistic Wellness: You understand that true wellness goes beyond exercise and diet; it encompasses mental and emotional strength too.
Why Join?
Total Wellness Transformation: This comprehensive program includes training program, a personalised nutrition plan, and weekly accountability check-ins via our app.
Coaching Expertise: Enjoy weekly coaching calls to address any obstacles, set new goals, and maintain motivation.
Sustained Change: 12 weeks is enough to establish lifelong habits that support your strength, health, and holistic well-being.
Take The Quiz
R

eady to take your fitness and health to the next level

?
We will help you achieve your fitness goals and transform your mindset with a personalised plan.
Transforming your body and mind isn't just a physical journey; it's a mental one too. The biggest obstacle to overcome is not the weights or the workouts; it's the doubts and fears in your mind.
But with commitment, perseverance, and the right guidance, you can push through any obstacle and achieve the body and confidence you deserve.
So believe in yourself, trust the process, and let's crush those goals together!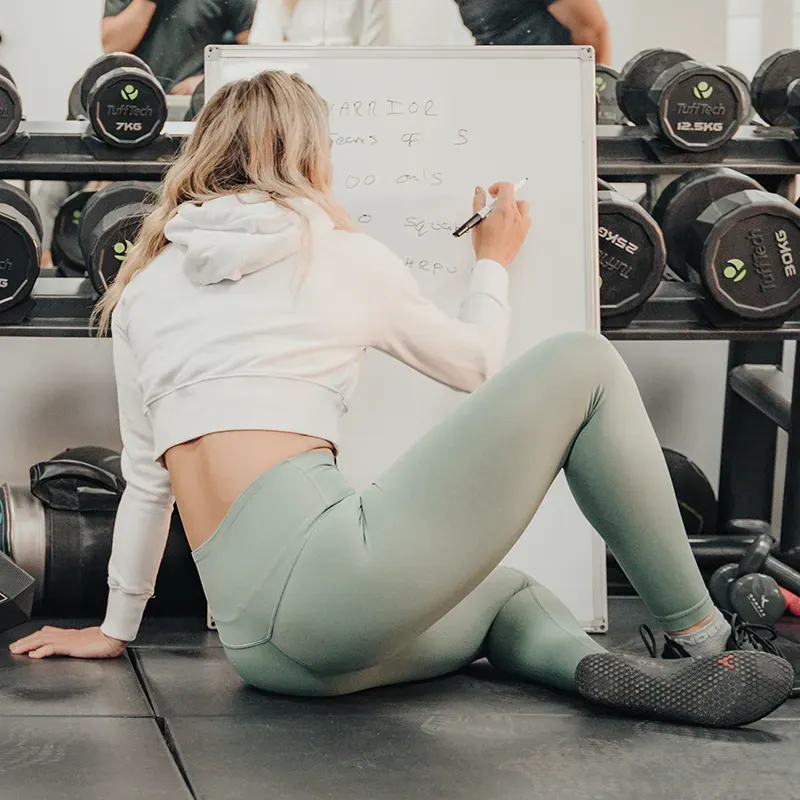 Customised Training Plan
You'll learn how to push yourself to new heights and develop a mindset of unwavering determination.
Our experienced trainer will guide you through challenging strength-based exercises that will help you build lean muscle mass to help shape your body.
Personalised Nutrition + Meal Plan
Designed to help you fuel your body with the right nutrients to support your fitness goals. We provide you with a customised meal plan based on your specific needs and preferences, so you don't have to worry about counting calories or figuring out what to eat. 
With 50 recipe ideas, meal plan & shopping list, our meal plans are packed with delicious and nutritious foods that will keep you feeling satisfied and energised throughout the day.
We include a variety of whole foods such as lean proteins, healthy fats, complex carbohydrates, and plenty of fresh fruits and vegetables.
Access to the App
View and log your progress every step of the way.
We believe that accountability and tracking progress are crucial to the success of any fitness program.
You'll have the support, tools, and resources you need to stay on track and achieve your goals.
Check-ins
A coach who is committed to helping you and understands your specific requirements and challenges is crucial for success.
That's why you'll have personal coaching sessions and support during the program to ensure you have the tools and guidance you need to achieve your goals.
Get started today

Step 1: Complete the short (6 questions) assessment below
Step 2: Book your FREE 1:2:1 Consultation Call with me
Step 3: Start your Fitness Transformation